Our Vision
Our founding team believe in many things. Perhaps above all we believe in the freedom of top professionals to pursue their dreams. That's why we operate the world's greatest (and soon to be largest) community of independent sales agents, empowering top sales professionals to take the next step and unlock freedom, independence and greater income by contracting directly with the business community at large.
In doing so, we connect businesses with the world's greatest community of sales agents, enabling simple and scalable routes to market without the financial risks or limitations of direct employment.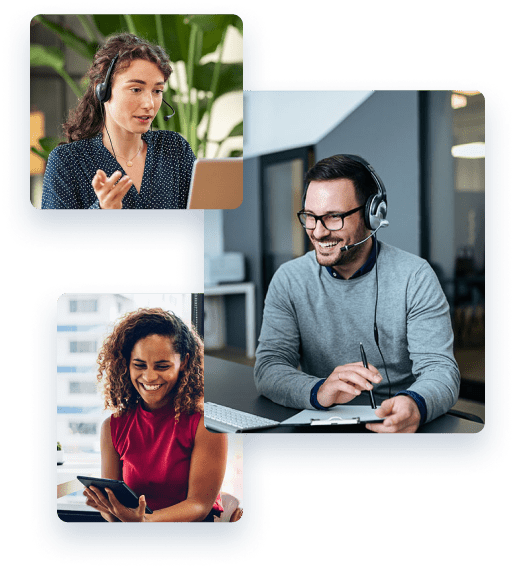 We Walk the Walk
We don't just Talk the Talk on growing our company through sales agents, we Walk the Walk and have built our own business using the sales agent, freelancer, and outsourcing model.
Our Sales Team are all commission only sales agents.
Our Sales Administrators are freelance service providers.
Our Marketing is looked after by a renowned service provider.
Our Website and Technical Development needs are outsourced to experts.
Our Head Hunters are independent professionals with their own businesses.
We can talk from experience about the benefits businesses can gain and the pitfalls to avoid when we help our clients find and work effectively with sales agents. Our sales agents and freelance partners are happy to share their working knowledge with clients considering selling through independent agents and sales people and SMEs thinking of becoming agents.
'At Salesagents.uk we know the sales agent model works because we use it ourselves.'
Our Team
Our experts brings decades of experience to the SalesAgents.UK team. We are thought leaders in our domains, experts in our sectors, wise, competent and resourceful individuals working hard to build the future of sales.
Our Role in the Future of Sales
In the past there were clear lines separating manufacturers and service providers looking for independent sales representatives from the sales agents using our portal to find sales opportunities.
Those lines have now blurred as sales and business partnerships combine to form a future that is more about connections and relationships than the old defined roles of business principal and seller.
The number of clients using our services to find sales partners has multiplied as more businesses look for low risk sales options. So too has the increasing number of SME businesses that as well as selling their own products have become agents for other non-competing products and services suitable for their markets.
Many of these SMEs have found new products and services on our Opportunities Page or have used the many resources available by registering as an agent Some go on to use our services to find sales professionals for their new product lines shown at Find Sales Agents.
Manufacturers and suppliers connect with agents.
Businesses that become agents want to connect with agents.
Businesses want to connect with businesses who will act as agents.
Businesses with a sales force want to connect with suppliers and become agents.
Sales agencies want to connect with business principals and work as partners.

'The Future of Sales Will be Based on Connections and Partnerships.'
Want to Build Your Sales Team Risk Free?
Our Timeline
We spend most of our time working with companies and agents to make sure they get great results from our service.
At the same time it's important to develop and improve our services.
Most improvements and updates are done in silence without any promotion. They are just implemented.
Below you will see a history of some of the updates and improvements that are done. We added this timeline in 2022 and because of a below average memory earlier entries are more generic.
From 2022 onwards we update the timeline monthly:
August – 2023
Tech improvement – It happens from time to time that someone thinks it's a good idea to apply to an enormous number of opportunities we have listed in a very short time span. Essentially, this involves copying and pasting the same application and hitting "apply" on all ads, very likely without even looking at the opportunity. We are committed to getting our clients high-quality applications, and this kind of behavior just wastes everyone's time. We have now made this strategy a lot harder by limiting the number of applications it's possible to send within a short time span. We won't reveal exactly how this works here, but we expect it to stop most spam applicants.
July – 2023
New content – Are you wondering if Salesagents.uk could be the right fit for your company's needs? Feeling a bit uncertain or skeptical? Concerned about investing your precious time and money? That's completely understandable. In response, we have crafted a page specifically for companies that are considering our service but aren't quite ready to take the leap. This gives you a sneak peek into what awaits if you choose to start a search for sales agents through Salesagents.uk. Check it out here: salesagents.uk/road-to-sales-agent-success
New content – Our legal partner, Myerson Solicitors, is on a roll! They've authored another insightful blog article packed with up-to-date legal information. This is essential reading for anyone working with sales agents. Check it out here: salesagents.uk/commercial-agency-update-government-abandons-plans-to-revoke-all-retained-eu-law
Tech development – On the tech side this month, we have spent close to three weeks exploring a new solution for our forms, only to discover that our current solution significantly outperforms it. Despite the initial setback, this exercise reaffirmed the robustness of our existing system. Now, we're shifting into high gear to focus on other feature enhancements that our users will greatly benefit from.
June – 2023
New Feature – We're excited to introduce a fantastic new feature that we believe could significantly enrich your experience and help grow your business. Have you ever wondered why certain professional sales agents chose not to apply for your opportunities? This is where our new feedback feature comes in. Designed specifically for those agents who pass on your opportunities, this tool allows them to share their thoughts. Maybe your offerings didn't quite match their expertise, or perhaps something about your company didn't resonate with them. Whatever the reasons, wouldn't you love to hear their insights? You'll find this feedback feature in your client area under "Receive Feedback". By default, it's enabled, so if you prefer not to receive feedback, you'll need to visit this section and turn it off.
May – 2023
New Feature – Introducing The Income Calculator for Enhanced Earnings Transparency. We're excited to announce the introduction of a new feature designed to provide agents with clear, realistic income expectations: The Income Calculator. One of the most frequent questions we receive from agents engaged in commission-based roles is, "What can I realistically earn?" It's a valid question. After all, the promise of significant income is great, but understanding what's truly attainable for a diligent and skilled agent is crucial. Moreover, we understand that agents can be skeptical of advertised earning potentials. It's unfortunate, but even when a company provides reliable data and genuinely offer an excellent opportunity for commission-based agents, there's a risk of being grouped with companies that inflate their numbers to appear more attractive. That's why we've launched the Income Calculator. This tool, exclusively available on Salesagents.uk, allows companies to substantiate the income potential with tangible figures. By showcasing a transparent income calculation to candidates, companies are not just enticing the best talents but also building trust. This feature is available for all companies on a paid service.
New Content – Our legal partner Myerson Solicitors has contributed another great article. Well worth your time! Here is the link: salesagents.uk/is-the-restraint-of-trade-clause-in-my-agency-agreement-enforceable
April – 2023
New Service – Many of our clients asked if we could add more features to our Premium service to save them time and resources by screening their applications. In April 2023 we launched the Platinum service. All the search and promotion features of the Premium service plus a dedicated account manager to screen applications, contact the applicants for more information, and create a comprehensive profile of each agent. Our clients on the Platinum service only receive applications that match their requirements and have all the information they need to make a quick decision. You can see the Platinum service at salesagents.uk/find-sales-agents.
New Content – 5000 word article titled "A Sales Agent's Guide to Success: How to Outperform the Competition and Thrive in Any Economy". Check it out here: salesagents.uk/a-sales-agents-guide-to-success.
March – 2023
Service improvement – In March we continued improving the functionality for our head-hunting team by adding application monitoring to all Premium ads. This means that our team more easily can see how a campaign is performing and make amendments if needed to improve the results for our clients.
New Service – We have added the Sales Agents Unlimited Service. This is a custom made service for companies that are continuously looking for sales reps and agents. If your company has a constant need for new sales talent this service is just for you. However, you won't find it openly on our page. You will need to get an invite-only link for this service. If you think your company can be a good match for this kind of service contact us.
February – 2023
Service improvement – All our premium clients get our head-hunting service included in the package. Head-hunting is a time consuming task so to make it more effective we have put considerable efforts into making it easier and faster for our head-hunters to search our agent database. As a client you won't notice this change in the front-end of the website but we hope it will help to increase the results you get of our premium service further.
New content – Excellent new content from our legal partner Myerson Solicitors. Well worth your time to check it out if your company is working with sales agents. Here is the link: salesagents.uk/understanding-commercial-agent-regulations-a-comprehensive-overview
January – 2023
Performance improvements – This month, we focused on making improvements to the backend performance of the website. These optimizations have resulted in a substantial increase in traffic to our premium advertisers, with clicks to paid advertisements rising by over 30%. We can't disclose the specific details of these updates (they could relatively easily be duplicated by competitors), but we are confident that they will further improve the responses our paying clients will get going forward. Stay tuned for more updates and new front-end features next month.
December – 2022
New feature – All our clients can now take advantage of the Lead Exchange. Inside the members area you can request sales leads (and other type of leads) from our great community of agents and companies. You can also earn incentives by submitting leads. No extra cost. The Lead Exchange is included in our existing paid services.
New service – We have added a new service for all companies looking to be successful with independent sales agents. We can now write you very own Sales Agent Playbook customized for your company with all information needed for your company and your agents to succeed with sales. This will be one of your most treasured documents. You find this service by logging into your client area.
Special member deal: Prospects into Profit has made a special deal for our clients. Excellent service if you are looking for high-quality sales leads for your company. Check out this deal under "Special deals" in your client area.
November – 2022
New content: We have set up a dedicated page for "Sales Partner opportunities". If you or your business has existing customers or contacts you can check this page for products/service that you can add to your offerings: salesagents.uk/sales-partners-wanted
Improved functionallity: Gone is the old Q&A Forum. It has been replaced with a much more modern Community Wall where clients and members can ask questions and discuss sales agents related topics. Login to your client area to check it out.
Special member deal: Outbase is an awesome solution to generate B2B sales leads for your business. We use it ourselves and are happy to announce that all Salesagents.uk clients and members can now take advantage of a 30% exclusive discount on their service. Find more details by going to "Special deals" in your client area.
October – 2022
New feature: We get many enquiries from businesses that are not looking to work as traditional sales agents, but they have the capability to market additional products to their existing customers. These sales partnerships give you a way to boost sales, and businesses acting as a sales partner a new income stream. If you have a paid subscription, you can now get a secondary advert targeted specifically to find Sales Partners completely free of charge.
Improved functionallity: Based on feedback from our clients we have made it easier to download invoices and navigate their client area. Basically we have reduced the number of clicks needed to find the information you are looking for from 2 to 1. Saving you 5 seconds, but also making it easier to navigate the client area.
New content: Great guest article by Myerson Solictors. Read "The Underperforming agent" here.
New team member: Filip Stojanovski joined our web development team.
September – 2022
New content: We have added an onboarding course for free advertisers. It only takes a a few minutes to complete and will show them how to make the most of their free subscription and how to use the features on the website.
Feature improvement: We have made it much easier for our team to categorize agents that register with us so we can send customized tips about new income opportunities. Our members don't want to know about every opportunity out there – they just want to know about opportunities that are relevant for them. We are now adding tags to individual profiles so we can accomplish this more efficiently.
August – 2022
New website: We are launching Salesagents.com that will be focus on the US market. All services on the US site will be free for the next six months as we start building up an audience of US agents. If your company want to expend to the US you have everything to win, and nothing to loose, by starting a search for US agents right now. Get started here: salesagents.com/find-sales-agents
New feature: For candidates that are frustrated they don't hear back from a company they applied to we now have a solution for you. All our registered members now have a "Let us chase company" feature that can be used for any application that is not responded to. As a member you can go to "My applications" in your members area and update the status of the application to "No response" to use this feature. One of our account managers will then personally call our contacts at the company in an effort to introduce you to them.
July – 2022
Update to Free Package: Now we require a valid credit card also to order the free service. We do this so we can spend more time on real companies and less time on time-wasters that register for anything that is free. We have noticed that the ones that are unserious are unlikely to submit their credit card information. To be completely clear, the service is still free and your credit card is not charged on the free subscription. This will free up time and make us able to offer an even better service (also to free advertisers).
New content: Thanks to Sarah Jane Straker for contributing a great guest article. We are open to more guest contributions and quality contributions are rewarded. Contact us if interested.
New Team Member: Claire Dingle is an experienced sales pro and business woman. She will help us with providing customized service for both agents and companies going forward.
June – 2022
New content: We have added a number of product specific pages making it easier for agents to find opporutnities in their field of interest. Are you a golf enthussiast? Do you love animals? Are you an expert on telecom? Do you like luxery products? Do you like to work with energy saving products? Find just the opportunities you are looking for! See the list of available product specific opportunities pages here: salesagents.uk/uk-business-opportunities
May – 2022
We have started getting some excellent "Special deals" in place. Our members and customers can now take advantage of:
Special member deal: 45% exclusive discount on Sales Whizz sales academy course
Special member deal: 10% exclusive discount on OnePageCRM
Special member deal: 10% exclusive discount on Federation of Small Businesses (FSB) membership
Team Member Moved On. Dimitar Mircheski, that has done an excellent job for us over the last 3 years, has moved on to another job. We wish him all the best with his new employer – and thank him for the great work he has done for Salesagents.uk!
April – 2022
New feature: This has been heavily requested! As the number of opportunities grow (currently at around 650) it's becoming more time consuming for candidates and agents to look through available opportunities. Many agents have requested a feature to remove ads they are not interested in so they can view a grid of only the opportunities that interest them. We have now added this option for all our members. When logged in you can now click "Never see this ad again" and you than narrow down the selection of opportunities. So when you come back to the site you won't have to scroll through ads you are not interested in over again.
March – 2022
New Content: Added a "Special deals" section to the members area. Here you will find exclusive discounts and special deals for services you are likely to be in the market for. You can also contact us if your company want to promote a special deal to our huge audience of UK businesses and agents.
February – 2022
New Content: We published a very extensive article that should be a "must read" for all companies looking to be successful with independent sales agents. It's a 15-20 minute read but it will be time well spent if you want to outsource sales to independent agents. Read it here.
New Content: Added contract templates and several legal guides to the agent and company area. You need to be paying subscriber to access these.
January – 2022
New Content: We added a sales calculator to the page. This should be a handy tool for anybody working in sales. Try it out here.
New Content: Added mini-course for companies in the client area. You need to be registered as a company to access it. It takes around 20 minutes to complete, and you will learn the most efficient ways to find the perfect sales agents for your business. As an extra bonus you get two free weeks added to any paid subscription by just completing the mini-course.
New Feature: Pause subscription. This is an awesome feature for all companies searching for agents! You can now pause and reactivate your subscription at any time. You are only paying for the days that your subscription is active. Pausing the subscription is automatically also pausing payments and when you reactivate you continue where you left of.
New Feature: We added a second part to the application form. The aim is quickly identify the quality of the application and whether the applicant is a professional sales agent or not. Questions include if they are based in the UK, if they represent their own company, if they have existing contacts they can start selling to right away, etc. We encourage all candidates to answer these questions to increase the quality of their application.
2021
In 2021 Salesagents.uk grew quickly and it was our best year, by far, ever. Over 500 active opportunities on the page and more professional sales agents using our service than ever before. We also started to focus more on getting case studies based on the experience of our clients.
Several important tech updates where done in 2021. Including:
New feature: Substantial improvements to the dashboard for our advertisers. Our goal was, and still is, to make the handling of candidates as quick and easy as possible for our clients. The update made it possible for clients to handle application with a few easy clicks. Tasks like "requesting more information", "rejecting a candidate", "shortlist a candidate" can all be done with a couple of clicks massively speeding up the sorting process.
New feature: Auto populate your contact information when applying. If you are logged in as a member you no longer need to write your contact information every time you apply to an opportunity. It will from now on be auto populated. Easily saving you 30 second.
New feature: Q&A forum added to both the Agent and Company area. Ask any sales agent related question and expect an expert answer. We have also teamed up with some of UK's leading solicitors on agency law that will answer any legal question posted.
New feature: Added responsive company filter to opportunity grid. Agents can now filter opportunities based on whether the company has committed to replying to all applicants or not.
New feature: Added a "one click rejection button" for advertisers. It's inevitable that some irrelevant applications come through from time to time. It puts you as a company a dilemma as you naturally want to give everybody a response but still it's a bit uncomfortable to send a rejection to the candidate right at the outset. By sending a rejection you also risk it's a thin-skinned candidate and they start responding back with their objections to your swift decision. Our "One click rejection button" solves this once and for all. Click it – and we'll send a very polite rejection on your behalf.
New Feature: Added "Let us try" option. Frustrated that what looks like a great candidate is not responding to your calls or e-mails. Sometimes this obviously a sign that they are not that interested after all but other times it can be something wrong with the contact information or another natural reason that you haven't been able to reach the candidate. Now you can let us do the job for you! Mark the status of the application with "Not responding" and a button labelled "Let us try" will appear. Click it and our team will do our best to hunt down the candidate for you.
New Feature: Added new "Benefits section" to the adverts. Companies can now easily highlight some of the key benefits of their opportunity to make them stand out to agents looking at their opportunity.
New Feature: Added option to include video content in the hero section for advertisers
New feature: Hide your advert. You can now easily hide and republish your advert in the Company area. This won't affect your subscription but is a great feature if you plan to make some changes to the advert and don't want the current ad to be visible until the changes are done – or if you simply are away for a few days and don't want to get any applications.
New Content: We published a revised and updated version of our e-book "The Easy Way to Find Sales Agents". You can get it for free here
New Content: The legendary sales agent David Fenton contributed an excellent article to us. Truely an inspirational read. Check it out here.
New Service: Launched a new package aimed for recruitment companies or companies that require multiple searches for agents for different brands.
New Team Member: Ian Caplan join our head-hunting team.
New Business Partner: Teamed up with Myerson Solicitors. They are one of the leading Commercial Agency law firms in the UK. They will submit exclusive article to our blog. If you are need of any legal assistance within agency law we recommend that you reach out to them.
2020
Free package

Early 2020 we added a free package for companies looking to find sales agents. This gave an immediate boost in the number of ads on the website and many good opportunities that we could work to upsell. As expected, it also resulted in a number of not so professional companies registering. Since adding the free package we have made some simple rules on which opportunities goes through our filter. For example, we decided from the start not to allow any MLM opportunities on the site. We generally don't accept ads from companies without a website – and we have also removed a few ads that make outrageous claims.
But we have realised that we can't be the judge of the quality of an opportunity. It's happened several times that what we may see as a poor opportunity can for many sales agents be the perfect opportunity for some agents.
All we can do is encourage all sales agents to do their due diligence themselves.
Hired lead developer

Another definitive highlight of 2020 was hiring our lead developer. Hristina Josifoska joined us early 2020 and from then the tech-development has sped up tremendously.
Building a Head Hunting Team
We are building the greatest portal in the world to find sales agents but we realize that not everything can be automated. Nothing can bet personal connections and an ongoing focus from 2020 onwards has been on building a strong head-hunting team. We want to speak to agents personally, call them up and present specific opportunities to him. We don't want to rely on ads, e-mails, and marketing alone. In 2020 we started building our head-hunting team that focus on building strong connections with the best sales agents in the UK. Both Frances Elliot and Graham Weakly started working with head-hunting for us in 2020.

Influx of PPE opportunities

Everybody and their grandma started selling PPE equipment. We probably received 30+ PPE opportunities within a couple of months.
2019
A new era with a new partner

Founders Hub (then G33K) became a partner of Sales Agents Ltd.
The first main project was building a completely new website. The design improvements were substantial to say the least.

Here is a screenshot of the old website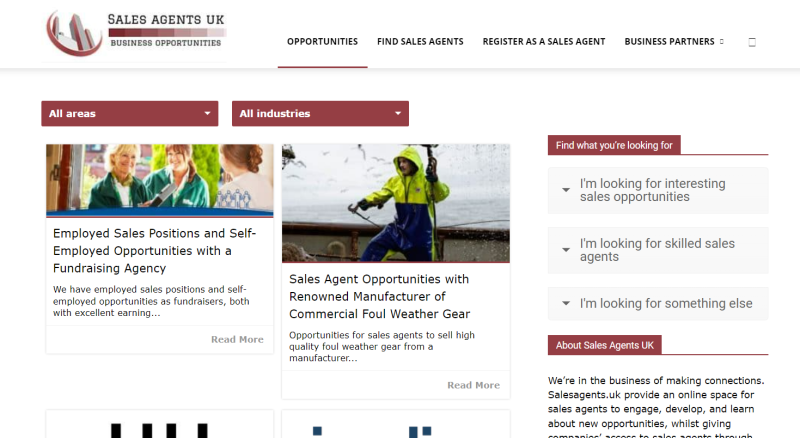 You'll probably agree that it's looking a fair bit better today.

Even more importantly the new website included a lot of new automation making the business much easier to scale. Previously we needed to do any amendment a client wanted ourselves and manually update their profile and advert. With the new website all clients received a login to their own client area where they could edit their advert, browse sales agent's profiles, etc. A huge timesaver and a much more professional service.

Marketing manager
In the summer of 2019 we also got our first full time marketing professional working for us. Dimitar became responsible for optimising all our marketing efforts and social media profiles. This gave us another huge boost with much more regular social media updates and increased visibility in the search engines.
Pre-2019
We existed well before 2019 and did a good job for the few clients that stumbled across our service. But Salesagents.uk was more of a side-project for Stephen Craine and Lars Hellestrae then. We had many ideas but very little resources. That all changed when the Founders Hub/SoPro became a partner in the project.
With their resources and expertise in marketing and tech we could finally take new steps and turn Salesagents.uk into a full time project.