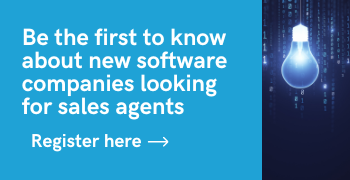 Generally speaking software developers know their coding and can create great software. However, sales skills are not their strong point. That's where you come in as software doesn't sell itself. Software needs to be presented a clear and easily understood manner highlighting the benefits it offers to customers.

Many companies that have developed software are looking for sales professionals to contact potential customers, present their products, and generate sales.

At salesagents.uk we have a regular inflow of software sales opportunities and they typically offer great benefits and rewards for the right sales agents:
Generous commission schemes. Software is often sold on a subscription basis and agents can build a great recurring income.
Flexible work location. It's rarely needed that you show up to physical meetings. If you are skilled at hosting web-meetings and doing online presentations you can excel as a software sales professional.
Software opportunities make ideal add-ons to existing business. Are you working as a consultant or have another kind of business? Consider adding a relevant software product that your clients need to your portfolio.
We have listed some active opportunities below that you can check out now. We advise that you also register with us to get notified of new software providers that are looking for sales agents.
Software Sales Opportunities
Learn about new software sales opportunities
Fill out the form linked below to register a profile on our website. You can choose if you want to make your profile visible for our clients or just to the Salesagents.uk team. The main point is that we'll add the tag "software" to your profile so we'll notify as soon as a new opportunity that matches this criteria appears.
We won't spam you. You can choose to sign-up to our general newsletter to get information about other opportunities. But if you don't sign-up to the newsletter you will only get customized notifications. These are sent manually by our team and we'll strive to only send you relevant tips.
You can edit your profile or cancel your membership with us at anytime.
Our job is to match you with new income opportunities within the area that you are interested in. Feel free to reach out to us at anytime if you have any questions and you can expect a prompt response.
The membership fee is £7 monthly
See the full list of membership benefits and become a member here.
Find Sales Agents to Sell Your Software
Contact us and include some information about the software you want agents to sell. One of our account managers will get back to you with information and a suggestion shortly thereafter.