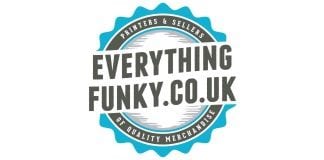 Standard and Bespoke Merchandising
Everything Funky are looking for sales agents, distributors, and resellers across the UK and Ireland to sell their ranges of standard and bespoke merchandising, branding, and promotional products to retailers and end-user businesses.

The potential target markets for sales agents to approach cuts across all business sectors and offers great earning potential.

All products are manufactured and finished in-house at our factory in the North East ensuring quality and giving sales partners confidence in delivery and service.
OPPORTUNITY OVERVIEW
Based in Cramlington, near Newcastle upon Tyne, we opened in 2014 and created a unique collection of bespoke designs on t-shirts, hoodies, phone cases and much more.

At Everything Funky we now make standard and bespoke merchandise for all kinds of people, from small independents to large businesses, and we make it all in-house by hand. We offer our customers over 5000 designs in our own ranges and work with them to print their own customised designs.
TARGET CLIENTS AND REGIONS
Our ranges of products have multiplied since our beginnings in 2014, and we can now supply everything a customer needs for marketing, promotion, branding and one-off events: mugs, greeting cards, embroidered garments, T-shirts for bands and cafés, stickers for artists, banners for events, and more.

We can take our customer's designs and ideas and create unique pieces of merchandise and print. We work with clients to make amazing bespoke tailored merchandise. From dye sublimation printing and garment manufacturing, through to modern DTG printing and traditional screen printing, we can come up with a price and print process to suit all the requirements of our customers.

Whether a customer wants a one-off piece, a standard product, or 100,000 specially designed items, they will receive the same high quality of service and a fast turnaround of their order.

You can see the full range of products on our website at www.everythingfunky.co.uk